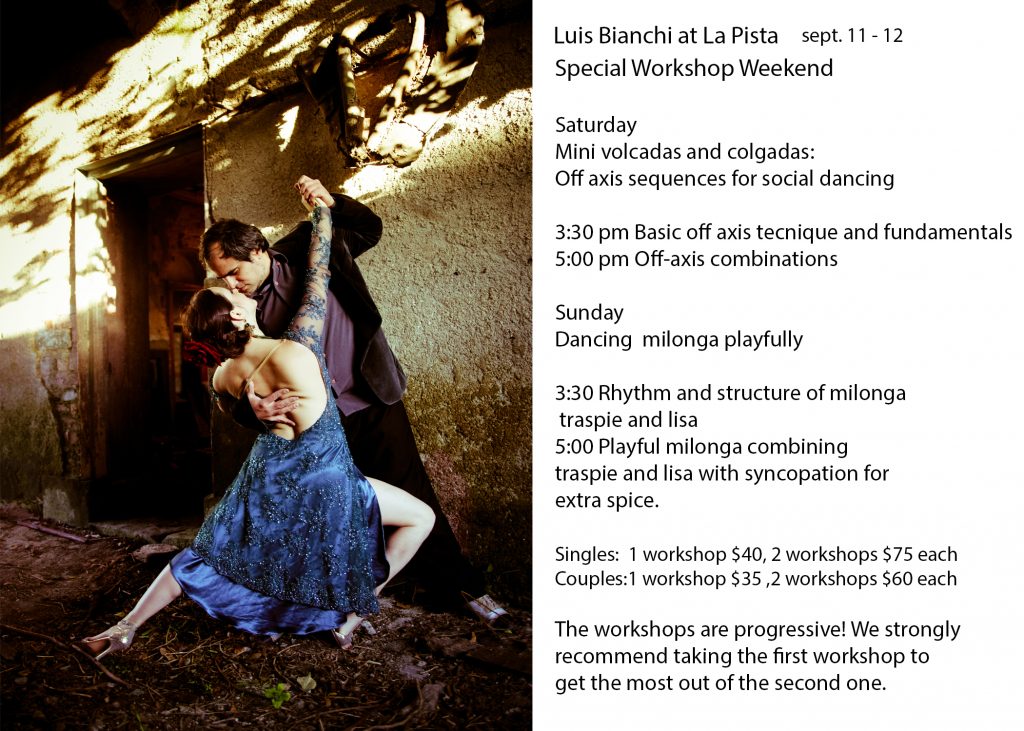 Advanced registration is required- no walk-ins. 
Payments for the workshop can be made in advance to Andrea Fuchilieri via Venmo acct:  @Andrea-Fuchilieri
All participants must be fully vaccinated.  Send proof of vaccination to:  andreafuchilieri@yahoo.com
No food allowed.  Filtered water is provided.  No cups!  Bring your own water bottle. No changing room.  Come ready to dance as you are.  Masking requirements will be based on the current guidelines for S.F. at that time. 
Welcome to La Pista Tango
La Pista, where Tango People from all levels meet to greet other tango feet. The only dedicated Argentine Tango dance salon for miles around. Dance on our wonderful floating wood floor. Join us for workshops, classes and private lessons. We offer an international tango experience to the Bay Area.
Please check the La Pista facebook page for updates.
The studio is located upstairs at 3450 3rd St., San Francisco, 94124 CA

Parking is free! However you will be towed if you park in the following spaces: 24, 25, 28, 29, 30, 31, 35, 36, 40. Thank you for your courtesy!

Enhance Your Skills at La Pista!
Tuesdays with Christy (and Carolina)
Christy Cote teaches beginning through advanced level classes.
For new students, please go to Christie's website for more information.
8:15 – 8:45pm – Technique exercises for all
8:45 – 10:15pm – Guided practica with Christy
-Max 20 students.
-All must be fully vaccinated.
-Must wear a mask.
-Come with a partner or change partners – your choice.
Advanced registration required.
To register sent payment:
$20 per person
Zelle thru your bank using christycote@gmail.com
Venmo using @christy-cote
Paypal using christycote@gmail.com
Starting Sept 14 – Tuesday evening int/adv group classes with Christy & Carolina at La Pista
8:15 – 9:15pm – Int/adv class with Christy & Carolina
9:15 – 10:15pm – Practica
Starting Jan 11, 2022 – Regular Tuesday evening class schedule will resume
7-8pm – Beg/Int Class with Christy
8 – 8:30pm – Práctica
8:30 – 9:30pm – Int/Adv Class with Christy & Carolina
9:30 – 10:30pm – Práctica.
Wednesdays with Marcelo
Marcelo Solis teaches beginning through intermediate classes. escuelatangoba.com
7 – 8 Beginner Level
8 – 9 Intermediate Level